ABC-ARV
The solution to stray dog issues
Human garbage attracts and breeds stray animals across India. Our stray dog issues cannot be resolved until communities take up garbage disposal very responsibly. The temporary solution of killing dogs does not help, because new dogs will appear, migrating to feed on the garbage available. These dogs could breed, bite and carry rabies into the community.
One breeding pair of stray dogs can give raise to 2,000 in their lifetime. Neutering and vaccinating them is a sensible and scientific solution.
Animal Birth Control and Anti Rabies Vaccinations (ABC/ARV) for Stray Dogs is a programme supported by Animal Welfare Board of India through Government of India, Stray Dog Control Rules 2001.
The Rules dictates Civic bodies to conduct Animal Birth Control and Anti-Rabies (ABC/ARV) programs for controlling Rabies and stray animal population. Recommended by the World Health Organisation, this is an effective measure to reduce stray animal population and Rabies especially in countries where there is external garbage that feeds and breeds stray dogs.
It is unlawful to order or plan the removal of stray dogs from the streets. Please call your local GHMC office or the Dog Squad, and request ABC / ARV instead!
Keys for success
Catch and comb the area till all dogs are neutered. Community participation to support, identify, help catch local dogs is crucial. Funding is important as everything costs money.  Well trained teams with infrastructure ensure there are no cruelties to the dogs in the process.
A successful Animal Birth Control and Anti Rabies Vaccination (ABC/ ARV depends on all this and show good results, such as Rabies-free zones and puppy-free zones, where it has received community support.
Challenges
The programme continues to be a struggle where residents or VIP's in the community raise objections to returning ABC dogs. This is an Animal Welfare Board of India and Government authorized safe solution.
Funding is a challenge- everyone wants to complain or demand service, but every few donate to neuter stray dogs.
Sponsor the spay/neuter of one pair of stray dogs.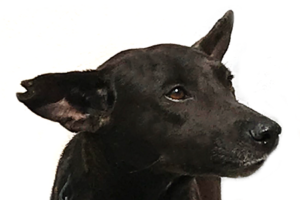 A notched ear
Helps identify a sterilised & vaccinated dog
Behaving around stray dogs
Stand quietly and turn your face away from a threatening dog or pack of dogs.

Never Stare. This is seen as a threat.

Never Scream. The dog will become excited.

Never Run away. This encourages chasing.

Never Kick. The dog will bite.